Ballyneal, the unofficial home of the Hundred Hole Hike, has always been the home of some pretty extreme numbers. First, we had a record $110,000 raised for one cause in 2011. Last year, the eight Ballyneal hikers were faced with 107 degree temperatures.
This year was no different. First, my bunkmate and future fourball tournament partner
Wyatt Halliday
played 108 holes and shot even par for the day! All this while playing to a Pandora mix seeded by, from what I could gather, The Backstreet Boys and Carly Rae Jepsen.
Even more remarkable, Mitch Ehly recorded the first double eagle in Hundred Hole Hike history after he jarred his 2nd shot on the par 5, 15th hole. He asked his playing partner Brian Carruthers for the number. Both Brian and Mitch worked in the shop up until a couple years ago, and know the course extremely well. Brian told him 155, agreed with the pitching wedge and told him to 'just swing hard'. Mitch, essentially a golf robot, punched in the number into his computer and spit out the perfect shot. Unfortunately for Mitch, with all of the bonus pledge features we've added to hundredholehike.com this year, I never considered an investment in an albatross feature. If Mitch had holed-out his drive on the infamous 7th hole at Ballyneal, he would've netted an extra $2,500 for his Disabled American Veterans charity. Instead, he gets a hearty handshake and a pat on the back (if you want to show Mitch some love with a pledge to acknowledge this feat, please go to:
http://hundredholehike.com/golfers/mitch-ehly
)
And finally, Rob 'THE Walking Golfer' Rigg claimed the "Sheriff of Hikesville" badge with a remarkable 171 holes walked in one day. That's 60 miles up and down some sand dunes. Plus, rumor has it that a) he may have done it with only club or b) he may have alternated between right- and left-handed swings.
[Note: Rigg only held the Sheriff title for a day, as he was surpassed on Tuesday by Oregon hiker
Bobby Tabb
. Tabb hit the 10-round barrier, going 180 deep at Sunset Grove Golf Club. This numbers game has me feeling a bit like Bud Selig, with Tabb as Mark McGwire to Rigg's Sammy Sosa. Let's just hope they don't end up on the cover of Sports Illustrated in togas. If I show up next year with six-pack abs, the head the size of a large watermelon and break the 200-hole mark in a day, can we all just agree to look the other way?]
All of these mind-boggling numbers made my third consecutive 155 holes at Ballyneal seem like old hat. Halliday had me beat before he even got out of bed, as I three-putted the first hole for double bogey at 4:47 A.M. (a disturbing trend for my 2013 hikes). Rigg lapped me on my 140th hole (his 149th). And the only "double" anything I attained on Monday were 17 double bogeys and one double cheeseburger after the marathon was over.
Before you think I'm just going to roll over and play fourth fiddle at my home club in the event I founded, I submit to you one mind-blowing, jaw-dropping, astronomic number:
Jim Colton, Fairways Hit: 85/120 (70.8%)
Happy learned how to hit a fairway.
Ballyneal GM Matt Payne, my Pinehurst caddies Cory, Mark, Scott and Jamie, lifelong golf buddies Jefe and Jimbo, high school golf coach Mr. Kane, and just about every fourball partner (or opponent) I've ever had just had the same universal reaction:
you're [bleep]ing kidding me.
You see, I've been playing golf for over the last 25 years, and I've never been able to hit the ball straight. I hold one course record: I'm the only person to go 0-for-14 on the 75-yard wide fairways at Ballyneal (I also went 0-for-14 at Merion last year, but given what we saw in the US Open last week, I can only claim a multi-way tie for that dishonor.) This year, I've been the king of shooting 81 with five or six lost-ball penalty strokes.
The source of my recent Fred Funkiness? My longtime Ballyneal match-play opponent, as well as unofficial (as in, don't ask questions, just take it) HHH nutritionist, Matt 'Balco' Schulte deserves all the credit in the world. I think he finally took pity on me always carrying his bag up "The Climb" after the 18th hole at Ballyneal. Beating on a guy 4&3 time and time again can get rather old after awhile (I wouldn't know, but I would imagine this to be true).
Schulte is the maestro of the "Bunty", an abbreviated driver swing that flies low, straight and 90-95% as far as an all-out swing. The usual ball-flight with the Bunt is a slight fade, but Matt can work it both ways with ease. He's the Greg Maddux of the Bunt swing. Last year, he completed a 144-hole hike using the same golf ball!
After a fairly typical, maybe even above-average 42.5% fairway percentage at the first hike at Pinehurst, I was ready to give up taking the driver altogether. Missing a fairway by 40 yards at a relatively-flat Pinehurst was no big deal. Missing the wide fairways at Ballyneal was a different story. Nothing could wear me down faster than finding and extracting golf balls from the wild, yucca-covered chop hills. I contemplated just hitting hybrid or 4-iron off of every tee during the hike.
Like an older brother imparting wisdom on his (slightly) younger sibling, Schulte took me under his wing and unraveled the secrets of the Bunt swing during the warm-up rounds Sunday, the day before the big event. It took a few holes to dial it in -- occassionally my natural urge to grip and rip with a 17-degree in-to-out path and 11-degree closed face (yes, both true numbers) would take over, but in the end, the results spoke for themselves. 36 holes -- 7 birdies, 1 eagle. I was a believer. If that trend continued, the Evans Scholars and Solich Caddie & Leadership Academy would be receiving a lot more money in bonus pledges.
Come Monday morning, it was wonder if we'd be able to get any golf in, much less 100 or more holes. The skies above this region of the country seem to be good for a nightly thunderstorm, and Sunday night's laser-light show was something to behold. The forecast for Monday looked fine, only 10% chance of rain, but when I woke up at 3:45 AM to start getting prepared for the hike, the lightning was still going. The skies looked ominous and the rain was pounding against the windows. I was reminded of the Ben Cox marathon, where a huge hail storm postponed the event by two days. Given I was now hiking with eight friends, and work and other events prevented any kind of Plan B, the weather could've wreaked major havoc on my 500-hole goal.
Thankfully, in the time it took to shower, get my day's wardrobe and shoes lined up and over to the restaurant for a bowl of pre-hike oatmeal, the storms had cleared up and the lightning was far off in the distance. At 4:44 AM, I launched the first shot of the Ballyneal hike -- a 6-iron shot into the dark, that we eventually found down the left side of the fairway.
Fairway being the key word. In the first round, I hit a remarkable 12 out of 14 fairways. And one of those missed fairways was on the short par 4 7th hole, possibly my favorite golf hole on the planet. With my new bunt swing, I hit a nice little fade over the large centerline bunker, just what the hole calls for. The ball ended up in the greenside bunker. I climbed down into the bunker, stared briefly at the flagstick in the front of the green, swung and plopped the ball out just onto the green. The ball hit the bottom of the stick square, popped up as it were going to stay on the outside lip, then dropped into the hole for an EAGLE. I gave a nice "EEEAAAGLLE" yell to let my fellow hikers know that the flood gates had been cracked open early.
It's remarkable how much easier the game is from the short grass. And quicker too. I hit 12 greens in regulation in the first round, made birdie on the 16th hole, and had quite a few routine pars. In an hour and 21 minutes after I started, I accomplished what I tried and failed to do in 8 rounds at Pinehurst...break 80.
And that streak of solid, quick play carried on for the first five rounds.
Round 1: 77, 1 birdie, 1 eagle. 12 fairways, 12 GIR
Round 2: 75, 4 birdies. 7 fairways, 11 GIR
Round 3: 77, 3 birdies. 10 fairways, 11 GIR
Round 4: 77, 0 birdies. 10 fairways, 11 GIR
Round 5: 76, 3 birdies. 12 fairways, 10 GIR
There is nothing about the level or the consistency of those numbers that would lead one to believe that I had birthed them. My caddie for Rounds 3 & 4 was Cierra, a recent Evans Scholar graduate who I managed to drag out of retirement. She had seen me as my absolute worst -- from 2009 to 2011 I spent the entire weekend hacking out of yucca plants. She threw out the word "consistent" after Round 4, far better than the "why me's", "not again's" and "you suck's" that I had grown accustomed to from unfortunate caddies over the years.
Shooting low scores is nice. Making birdies and collecting bonus pledges is nicer. Getting texts from Schulte, who was following my GolfShots scorecards online, saying, "I've created a monster!" and "With you hitting 85% of your fairways, I don't stand a chance of beating you" was outstanding. But playing fast and walking a bunch of holes was still the priority. Even proactively managing my shoes and reactively managing a wonky stomach in between rounds, I was well ahead of the pace of both the Ben Cox 155 and last year's Hundred Hole Hike. My first five rounds were recorded in 1:21, 1:22, 1:27, 1:25 and 1:35. This was six and nine minutes faster for the first five rounds, on average, than the first 2012 Hike and Ben Cox marathon, respectively. And it wasn't because I was in better shape, I assure you. The only thing going for me was splitting those fairways.
I had completed my 100th hole at 2:05 PM, and just like other years, you start doing the numbers game and wonder just how holes you can get in. I toyed with the idea of calling Ben Cox and seeing if he'd be okay if I took the number beyond 155. However, Round 6 was a reality check. I developed some shin splints and my body was generally rejecting the idea of carrying on. The 17th hole and 18th holes destroyed any notion of breaking 80 -- specifically three shots to get out of the green side bunker on 17 signaled a tipping point in my play and focus.
Thankfully, my caddies for holes 109-155, Preston and Skyler were a tremendous help. On the 12th hole, my drive carried too far and found the cavernous right fairway bunker. I took one look at the ball and said, "I can get down there, but I'm not sure I can get back up." Preston agreed to pull me up out of the bunker with my wedge after the shot. In between shots, I used my club in hand as a walking stick to lengthen my strides. Occassionally, Skyler would dig the ball out of the hole on a putt. And on the 16th hole of Round 8, this happened:
My game came around a little bit in Rounds 7 & 8, as I shot 82 and 80, respectively. I was still able to hit 9-10 fairways a round, but the occassional skulled iron or half wedge shot led to a lot more double and triple bogeys than before.
As I completed the 1st hole for the 9th and final time, a long, lanky figure ran down the fairway towards me. It was Steve Hale, aka Pepsi, aka Keegan Bradley's caddie. Steve used to caddie at Ballyneal back in the day, between gigs on the tour when he used to be on Johnson Wagner's bag. An injury to Jamie Lovemark eventually led to him getting a shot with Keegan, and the rest is history. Now, he's a Ballyneal member (if you ever see Keegan on tv, look for the giant Ballyneal logo on his caddie's right sleeve).
Less than 24 hours earlier, he was caddieing for the winner off the 2011 PGA Championship. Now, he was following around a complete hack with 46 miles on his pedometer. And I didn't disappoint. The second shot Pepsi saw me hit was a duck-hooked hybrid on the 2nd hole. On the 4th hole, I hacked out of the native and hit a worm burner down the fairway. On the 5th tee, Steve kneeled down to record some video of my swing, with the hopes of sending it to some of his Golf Channel contacts.
I lined up an 8-iron...and cold-shanked it into the weeds.
"Delete! Let me try that again," I said. Next shot...shanked again.
I made a mess of that 5th hole, but one memorable moment was seeing Pepsi in action. One tell-tale sign of a pro-caddie: he had the longest strides that I've ever seen in a human. He covers more ground per step than Kevin Durant on a fast break. During the hike, we allow for the golfer to keep the flag in while putting, without incurring a penalty. After turning into Shankopotomus, my long putt for double bogey was of little consequence, and Preston and Skyler were already preparing for the next hole. As I took my first practice stroke, Pepsi's reflexes took over. He fast-walked clear across the large 5th green in three steps, took out of the flag with the swift precision of an assassin, and darted to the other side of the green out of the way. It was like watching poetry in motion.
On the sixth hole, Steve tried to record some more video. I responded with a hosel rocket that nearly took his head off. This was a really bad sign. I was still hitting the driver well, so I managed alright on the short 7th hole and hit a good drive on the 8th. Sitting in the 8th fairway, about 250 yards away and petrified about hitting another shank, I seriously considered hitting a lob wedge for my second shot. Thankfully, I concentrated enough to get a 6-iron airborne, and the remaining four holes were shank free.
Pepsi left after 9 holes to fetch us a ride back after the 155th and final hole. It was a great nine holes, shanks and all. My only regret is that I missed out on a HUGE opportunity to record a video like this after making a putt: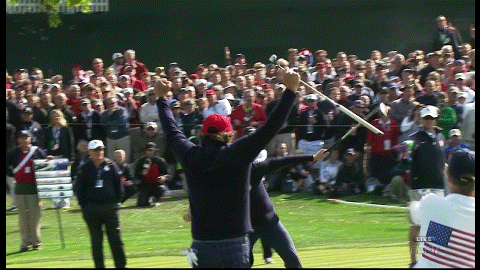 I am still kicking myself. But in a day at Ballyneal that saw some very impressive numbers, I guess I can live with just one regret.
299 down, 201 to go. Next Stop: Cabot Links
Please support my Hundred Hole Hike for the Solich Caddie & Leadership Academy in Denver and the Evans Scholars Foundation, both providing opportunities for young caddies. For more information or to make a pledge, please go to: http://www.hundredholehike.com/golfers/jim-colton
By the numbers:
Easiest Hole: 7th, 3.44 (-5)
Hardest Hole: 17th, 5.25 (+10)