I was in Wilmington, Delaware this past week for work, just minding my own business in the morning, when my phone started buzzing from text messages.
"You just got a 'game ball' from Matty G on MorningDrive. Nice work!"
That made an otherwise pretty nondescript work day pretty unique. Later that afternoon, the video was posted. Out of the blue, Matt Ginella decided to highlight the work that we've been doing since 2011 to raise money for charity and impact lives through nothing more than a love for the game and a desire to walk an insane amount of holes in a day.
Watching the video, my first reaction was, "how do I get one of those giant foam golf balls?". My next reaction was the reality sinking in on how far we've come since 2011, when this idea started through the Ben Cox marathon. Four year laters, over 250 golfers have walked 100 or more holes in a day, and the amount raised is approaching $2 million. It's been a tremendous blessing to me and my family to be a part of it and see the steady growth.
Three weeks ago, I participated in my seventh Hundred Hole Hike, again at Ballyneal. I ended up pushing my hike back a week so I can help out and caddy for my fellow Ballyneal hikers a week earlier (read: I was out of shape and felt caddying 100 holes would be good training). It turned out to be a good decision as I walked 108 that first week (caddied 90, then played a late afternoon 18 with hiker Brandon Urban, urging him to push past 126 holes and go for 144).
Last year's hike was a personal grind as I was dealing with ankle issues, work stress and poor play. I finished 144 holes before rain came in and ended my day. But my family was there to greet me on hole 144, and I was overcome with emotion on that 18th fairway.
There were no tears of joy, pain or otherwise this year. If I had to summarize my hike in one word, it would be:
fun
. I had a blast playing and walking 100+ holes on a cool, overcast day at one of my favorite courses in the world. Once again, I was able to get to my target number of 155 holes, with relative ease and some daylight to spare.
Time really does fly when you are having fun. This is especially useful when you are walking 45 miles over a 15 1/2 stretch. I started a few minutes before first light, hitting a tee shot at 4:48 AM with a yellow ball that was topped down the fairway. The last putt was dropped at 8:45 PM. There were 717 shots (some bad, but mostly good), 88,000 steps and even more pleasant memories in between.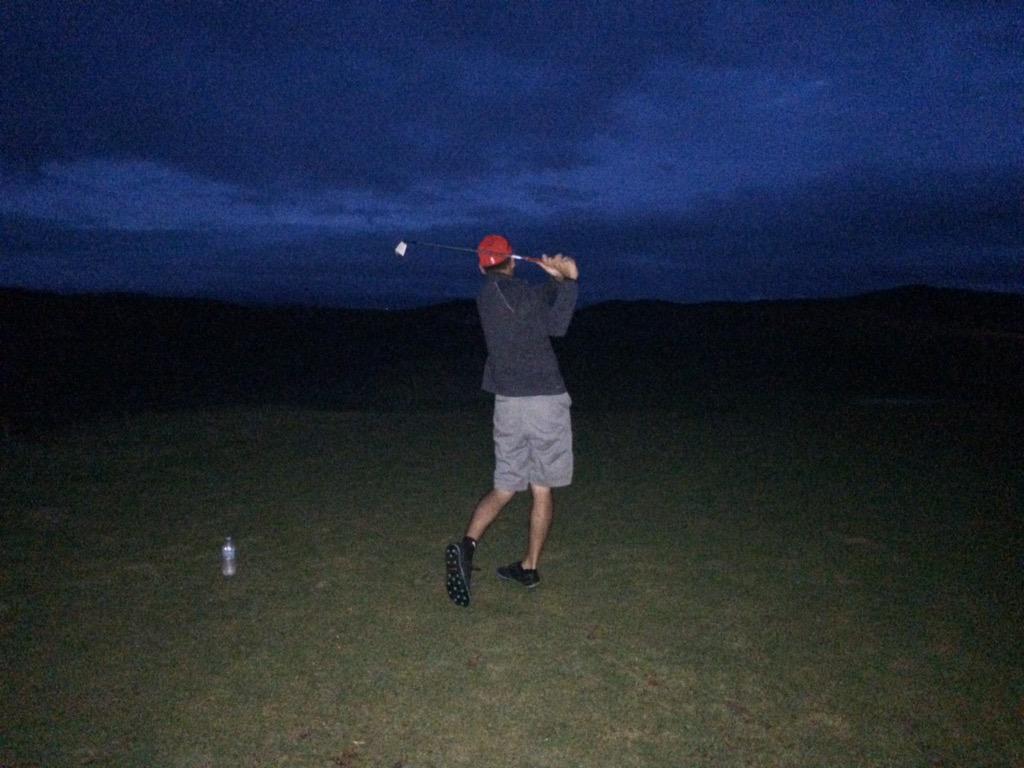 Having two caddies throughout was a huge plus, not just for finding wayward shots and carrying my eight clubs, but just for sanity's sake. Tyler and Chris powered through for the first half of the hike. Adam and ONeal took me home from Round 5 to the end.
— J Colton (@jcolton31) July 6, 2015
[And I have to mention my caddy for one shot, Ballyneal celebrity caddie and friend Charlie Mulligan. He came out during my sixth round and took some pictures for his blog: He came at just the right time too, as I was hitting the ball pretty well (before falling apart on the back nine). I nearly aced the third hole with Charlie snapping away atop the dune behind the hole. On the 7th hole, I had a 20-foot birdie putt and asked Charlie to come down and give me a read. Wouldn't you know it, he got the double break just right and I rammed it in. Thanks Charlie! Check out Charlie's recap of the round here:
http://ballynealcaddy.blogspot.com/2015/07/hundred-hole-hike-762015.html
]
Once again, my family was with me for the journey. By the late afternoon, the Colton Five and the two caddies were literally the only people on the property. This was a golf dream come true.
After playing 153 holes by myself while blitzing through a handful of groups (some twice in their same round), I made the turn and ran into this foursome of golf misfits that just wouldn't let me play through!
If you can't pass em, join em. I played the last two holes as a fivesome, going from four minutes a hole to twenty-four minutes a hole. But it was all good. Besides, somebody has to hold up the 1-5-5 at the end: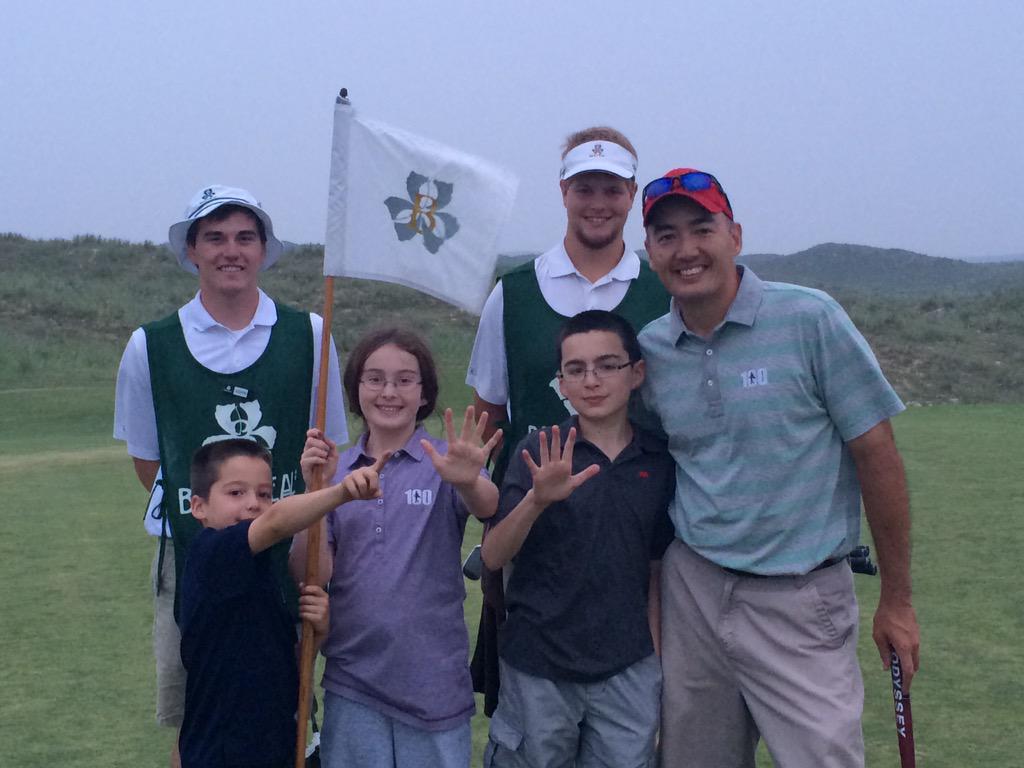 All in all, it was a great and memorable day. And thanks in part to 12 birdies and a special bonus for reaching 155 holes, I was able to raise over $11,000 for my two caddie-driven charities, the Evans Scholarship Foundation and the Solich Caddie & Leadership academy.
There is still time to give. You can pledge for me or any of the 80+ hikers through the "pledge thru me" on their golfer profile page. 100% of the donations go directly to the charities involved.
And of course, I'd love to have you involved in the fun next year. Please consider joining the army of hikers in 2016. You can email me at jim@onedivot.org for more information. As my 8-year old loves to say, let's "take it to a-no-ther LEV-EL!"
Hundred Hole Hike by the Numbers
155 holes (8 rounds + 11 holes)
Start time: 4:48 AM
End time: 8:15 PM
Total time beginning to end: 15:27 (5 min, 59 sec per hole)
Total time golfing: 13:34 (5 min, 2 sec per hole)
Fastest round: 1:24 (x2)
Slowest Round: 1:43
Avg Round: 1:34
Scores: 78-87-83-93-84-83-78-84-47
Scoring Avg: 83.5 (41.1 front, 42.4 back)
Eagles: 0 frown emoticon
Birdies: 12
Par: 60
Bogey: 52
Double: 27
Triple: 4
Balls Lost: 5
Three-putts: ~188 smile emoticon
Best Ball score: 64
Worst Ball score: 106
Hardest Holes:
17 (par 4): 5.63 (5-7-4-5-6-6-6-6)
12 (par 4): 5.25 (5-6-5-7-5-4-4-6)
10 (par 4): 5.22 (5-6-6-5-5-5-5-5-5)
2 (par 4): 5.11 (5-6-6-4-4-5-5-6-5)
Easiest Holes:
11 (par 3): 2.78 (3-3-3-2-3-3-2-3-3)
16 (par 5): 5.00 (5-5-6-6-5-5-4-4)
6 (par 4): 4.11 (3-4-5-4-5-4-4-4-4)
4 (par 5): 5.25 (5-7-7-5-4-4-5-5-5)
Steps: 89,566
Miles: 44
Money raised: >$11,000